During the Biennale the weekly Whataboutery and Walkaboutery sessions took place at Audrey Hepburnplein, the central point that linked all the locations involved in the five-week event. Positioned around the information stand at the centre of the square was the so-called 'Listening Bench', which formed the focus for all visitors and the spot where they could meet and talk to all the participating designers, artists, co-curators and various makers. A place of complete openness and an invitation to interact, engage and discuss. 
The Whataboutery programme comprised a series of intimate conversations, but also discussions and, in particular, interaction with the designers and artists taking part in State of Fashion. Subjects such as 'How can we make fashion more inclusive? How can we make repair more accessible for everybody? What about the impact of the industry on our fragile ecosystems and on the overworked and underpaid garment-factory workers who are out of sight and therefore out of mind? How can we redesign the industry, and our shopping streets? And what about gender, race and centuries of colonialism that have caused unmentionable damage, and still do, to indigenous communities?
We also organized thrice-weekly Walkaboutery tours to all the main locations on the basis of different themes. 
Whataboutery Museum Arnhem x Fashion as Encounters
On July 9th we organised a substantive conversation with Molly Vaughan and Jan Hoek, moderated by Theodorus Johannes about the value of collectives in the fashion and art industry, the importance of the community in making changes happen and making way for other voices. The theme Exercising Compassion is a call to care for the suffering of others, willing to take joint action and improve for the future. Both speakers use their work to make other voices visible and strive for equality. They do this collectively. The talk focuses on the importance of their work and the many ways they try to make a difference. How is their experience so far? How is their work received and what did they learn so far?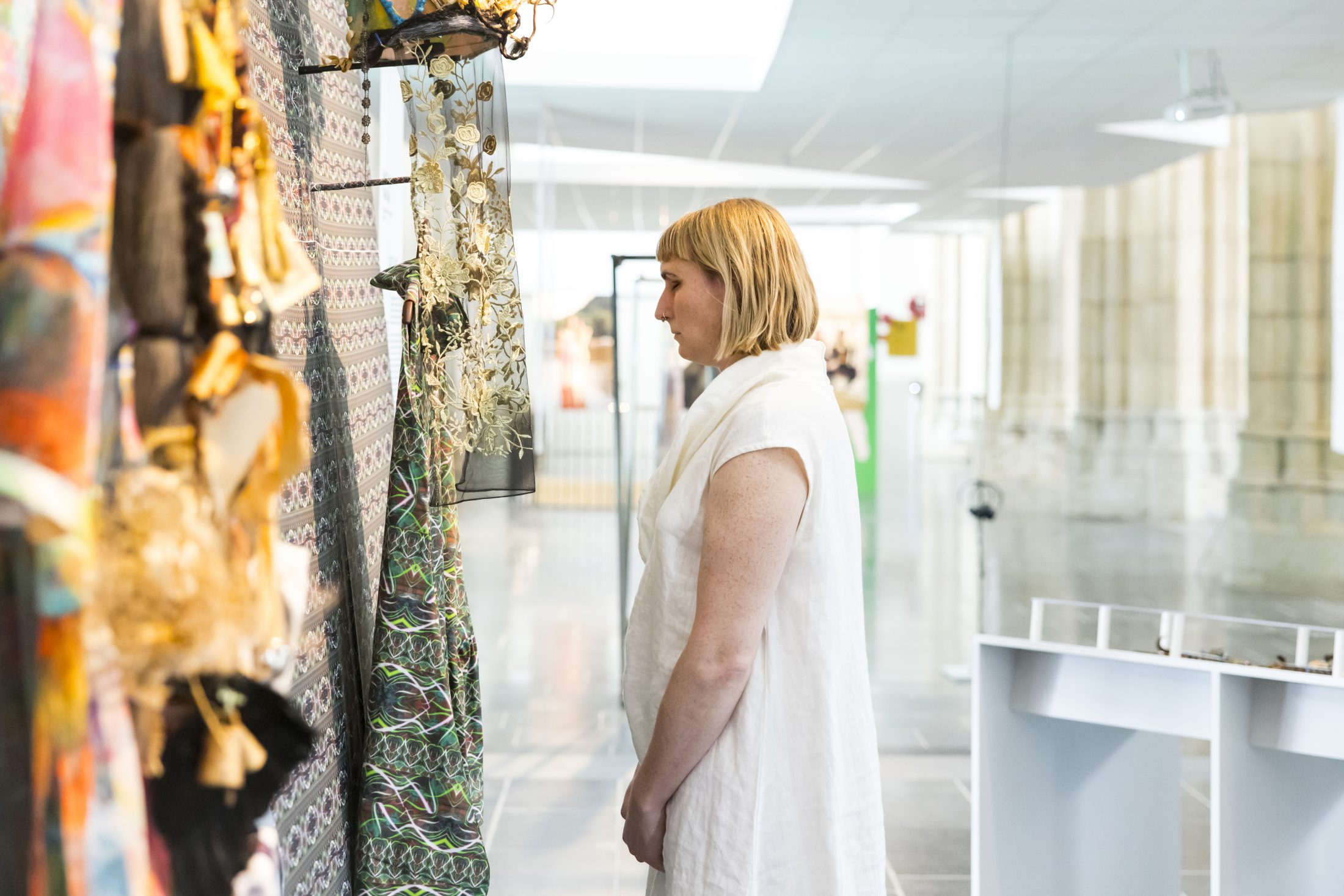 Molly Jae Vaughan
Molly Vaughan is a Seattle-based artist who currently serves as a Senior Assistant Professor of Drawing and Painting at Bellevue College. In 2011, Vaughan began to openly make work as a trans woman which led to a number of ongoing bodies of work, including Project 42, The Ornamental Self, and Safety in Numbers. Her work has been exhibited nationally and internationally in both solo and group exhibitions. The most recent exhibition, Project 42: Molly Vaughan, was held at the Bainbridge Island Museum of Art and showcased the first 21 of the 42 garments Vaughan is creating for this project. MOTHA and Chris E. Vargas Present: Trans Hirstory in 99 Objects was shown at The Henry Art Gallery at the University of Washington and We the People at the Minnesota Museum of American Art.

In Project 42, Molly Vaughan (USA) honors the lives of murdered transgender and gender nonconforming Americans. In every work from the memorial project, an individual is honored with a garment and collaborative action. Each garment is constructed with patterned fabric developed from visiting the location of the tragic murder via Google Earth and Google street view. With the work, Vaughan raises awareness of the violence facing transgender and gender nonconforming individuals, especially trans women of color, in contemporary American society. By creating this awareness, she also hopes to realize collective ally-ship in society. "42" refers to the average lifespan of someone in this community.
Jan Hoek
Jan Hoek (1984) is an artist and writer. In his work he is always attracted to the beauty of outsiders worldwide and always keen to collaborate intensively with people that normally are overlooked and create together a new image. He photographed movie stars like Nairobi based motor taxi riders, a Amsterdam based ex heroine addict who always dreamed of being a super model, created psychedelic zines about the sex tourist capital of the world Pattaya, and made a serie about the Maasai who do not identify with the jumping stereotype image. In the universe of Hoek the 'normal' people are the strangers and the outsiders are the funky rulers of this planet. Hoek's work is shown at places such as Foam (Amsterdam), Unseen Festival (Amsterdam), Photoville (New York), Fomu (Antwerp) and Lagos Photo (Lagos). 
The project Sisaaz of the Castle is the product of an ongoing collaboration between fashion designer Duran Lantink, trans sex worker organization SistaazHood and Jan Hoek. The Sistaaz are fierce activists, proud to be trans, proud to be sex workers, and even prouder of their stunning sense of style. And they want it to be acknowledged. Most of the girls are homeless, living under a bridge near Cape Town's (South Africa) Castle of Good Hope.

Together they created a series of photographs and a fashion collection based on the girls' appearance and their ability to turn whatever they find into the most exuberant outfits.
Moderator Theodorus Johannes
Theodorus Johannes (he / they / she) is a filmmaker, researcher, storyteller and notorious outfit repeater. They make reports that concentrate on fashion as a complex and powerful form of communication, in which themes such as identity and authenticity are inquired. Community, folklore and needlework are central in their art practice.
Performance Matthew Wang
A question that has concerned M. for some time: how can artistic work embody resistance and give way to individual and collective agency? They have been in search of practices grounded in a present and generous sense of place. Each encounter with such an object, person, or environment, affirms a view of this world as interdependent and indivisible. Each little story pieced together reveals the lie that capitalistic and colonial systems have deeply embedded in them. They believe there is still joy and hope to be found in the cracks and the folds.

The work that they have been drawn to is that which understands the sociality and performativity of our lived experiences — they seem to gently ask: how can this world be ever so different? more thoughtful? more engaged? more liveable? While their cynical response to 'What do you do?' is still 'artist', they do not believe art is the only place to find these answers. Said differently, they often find the most unannounced and invisible work to be the most radical. Amongst the messy overlaps, they cannot articulate a clear 'position' in their work and life, what is there is often an outcome of chance and exchange.
Whataboutery series
Listen to a number of Whataboutery series where involved designers, artists and the co-curators and different makers talk to all the participating designers, artists, co-curators and various makers. A place of complete openness and an invitation to interact, engage and discuss.
Listen to the Whataboutery with Garcia Bello and Outfit Library LESS
Click to listen
Listen to the Whataboutery with TOTON Januar and Niamh Tuft
Click to listen
Listen to the Whataboutery with Cedric Mizero, Marieke Eyskoot and Orsola de Castro
Click to listen
Listen to the Whataboutery Closing event with Tom Van der Borght
Click to listen